Category: New to Park Vision
Feb31st Bespoke
Not all eyewear is made the same, thank God, if you like something completely individual and like nothing else this is the brand for you. Having been in the eyewear business for over 30 years you think you have seen everything and that fashions come, go and come back again. Feb31st changes that.
I remember distinctly the first time I heard the brand name, I thought, that's really very clever, it makes you think and then want to know more. I mean there isn't a February 31st, did they get it wrong? Are they telling us something we didn't know existed? Well yes initially they were…
FEB31st is an Italian firm whose story is based on the vision and tenacity of three entrepreneurs and has grown and spread throughout the world. Its founders wanted a reliable form of light manufacturing, open to innovation and flexible in the face of change.
Quick and craft-based. Respecting the environment, the workers, their skills and the relevant financial processes. Capable of giving its customers freedom of choice and genuinely tailor-made objects. It really does sound like a February 31st firm. That is, one that doesn't exist. But now it does – and that's why it's called FEB31st.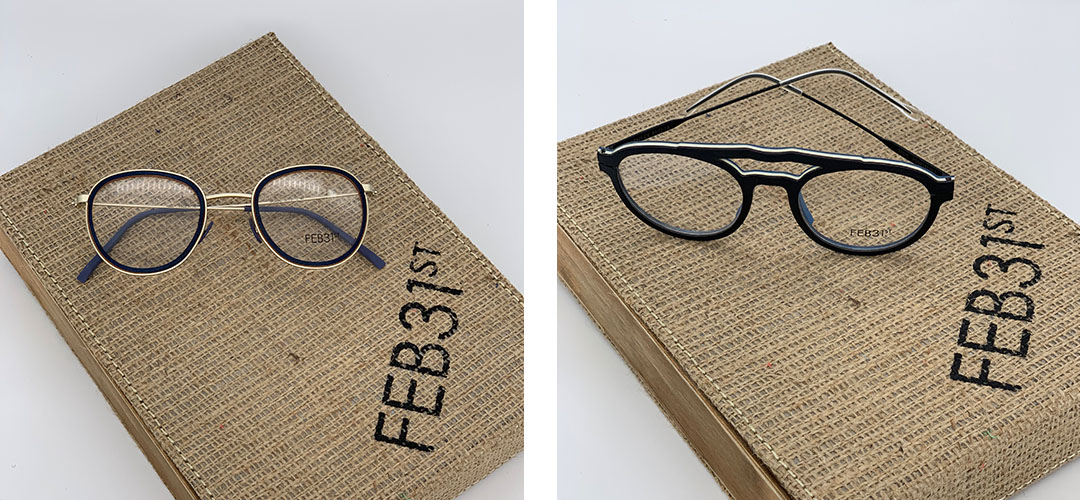 I fell in love with them at first sight, cool, comfortable and unusual. It was the first range of commercially available frames made from wood that were not only stylish, well designed but also completely customisable, available in a huge array of colours and designs.
Not only does the brand have a really cool name, the concept is cool too. Each frame is made up of 13 different layers of certified FSC ecologically harvested bolivar, Vaia and kauri wood. You have the ability to totally personalize the colors of the many different layers of the frame you choose, you can also laser engrave a name, a signature, a logo or whatever you would like anywhere on the inside or outside of the frame.
For a company to be both economically sustainable and ethically sound, it must be aware of and care about its surroundings. FEB31st is genuinely eco-friendly because it has recognized a waste of resources and eliminated it: there is no inventory and the company produces, very quickly, to order, it also means they never discontinue a style, it can always be remade, I know of no other eyewear company that can say that.
Any waste material is used in its furnace to heat the factory so as not to create further drain on the environment. The Italian government even asked for their help when a devastating storm hit Italy in 2018 felling over 14 million trees and causing huge damage. Feb31st stepped in and began using the fallen Vaia trees in production and helping plant millions more to try to get the area back on track with nature.
These Nature ravaged trees have given rise to one of the collections in their portfolio. Where the trees show signs of the storms impact, they have harnessed and utilised featuring the damage done within the lightning struck trees to form part of the frame design to give a unique and character to each model, each being completely individual.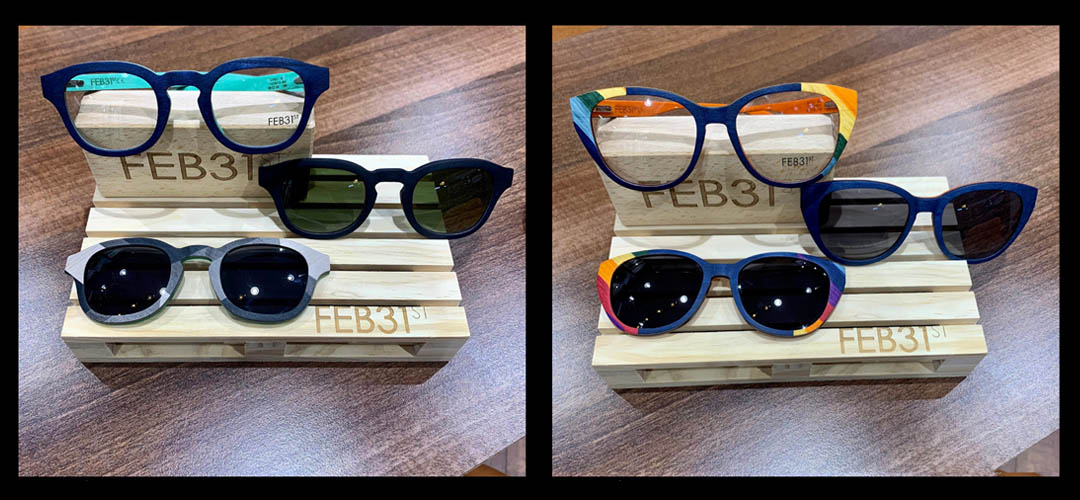 Feb31st also use a rare and exotic wood called Kauri, the essence of Kauri from New Zealand boasts 48000 years of life and dates back to the final period of the last Ice Age. The Kauri is a unique material with impressive beauty and a unique and wonderful history. It is considered to be one of the oldest woods in the world and remained underground, preserved in New Zealand's peat swamps for over 48,000 years, until its recent discovery. It is endowed as mentioned with a unique beauty, the vein of wood and the tones of color tend to a golden shade that certify its uniqueness and exclusivity and demonstrate the exceptionality of this proposal.
Although this wood is exotic, it is the most sustainable within the Feb31st universe, already obsessed with eco-compatibility and kindness and compassion towards Nature and the Environment. No Kauri trees have been cut: these immense trunks have in fact fallen and ended up underground as a result of natural events such as earthquakes and cataclysms and also for this reason the availability of this material is limited and makes it even more valuable.
The collection offers the customer the opportunity to wear an exclusive frame that tells one of the amazing stories of our unique and wonderful planet.
So why use wood anyway?
Well, we know its environmentally friendly, but what else? It is also remarkably lightweight and durable. Its hypoallergenic and offers so many possibilities. It can be customised, engraved and even have magnetic sun clips made specifically for them.
With Feb31st you can not only see the rainbow, but actually wear it too… Come and see them and have fun designing your own.