Category: Lenses
Hoya Lens Sensity & Sensity Shine
Gone are the days that we had no choice but to take both sunglasses and normal glasses with you everywhere, you can now combine them into one fabulous, stylish piece of eyewear. Welcome to the world of Hoya Lens UK Ltd. SENSITY & SENSITY SHINE.
I had never been a fan of light reactive lenses in the past, it was a personal thing, being exceptionally light sensitive I just did not find they were dark enough in bright sunlight for me, I also didn't like the colours they went or were to begin with.
From a professional standpoint though they were useful as they are convenient for wearers who did not want to keep changing their glasses for sunglasses and then back again.
The good news is they have had an upgrade, with better colours and performance as well as a really cool way to be different and modern.
I have had my first pair of Sensity Shine for a few months now and have used this summer to road test them fully, and I can honestly say I love them. Not only have they cut the mustard in reducing glare and brightness for my poor little sensitive eyes, but they also actually make me feel cool, yes who thought that I would be cool right, my kids certainly didn't.
There used to be a bit of a stigma attached with older designs of photochromic lenses, they either looked yellowy brown, or dull grey, they didn't change colour very well in your car and took a long time to fade back to clear. They could also make you look a bit old fashioned, this is no longer the case.With the New generation of Sensity and Sensity Shine these issues have been tackled.
There are two versions of Sensity and Sensity Dark, the difference being that Sensity Dark works better in your car as it is not just reliant on UV to alter the lens colour, as modern car windscreens filter out almost all UV light, therefore regular designs do not darken as well.
Sensity is also available in three natural colours that were developed by colour specialists to harmonise with sun lens trends, guaranteeing you a contemporary look, with Sensity Shine having a complementing light mirror coating.
Sensity Shine incorporates Sensity Dark to give a more universal sunglass option, and all are available in all three colours:-
Sensity Bronze Brown & Sensity Shine Bronze Brown (Light mirror copper) - Giving extra contrast in different light situations.
Sensity Silver Grey & Sensity Shine Silver Grey (Light mirror silver) - For extra comfort and protection when experiencing intense light conditions.
Sensity Emerald Green & Sensity Shine Emerald Green (Light mirror blue) - Giving extra protection when using digital devices.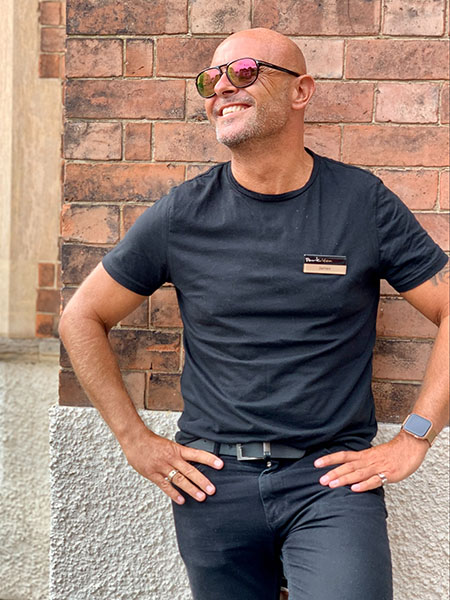 "I have gone for the Brown lens with Light Copper mirror, which looks just like a high fashion sunglass when dark and a clear, slightly reflective, fashionable mysterious look when in its inactivated state. With Sensity Shine you get more for your money.
You get extra darkness when outdoors, but in a unique way. You get an exclusive look thanks to a mirror coating that is more intense in the light yet subtle when indoors. Wearing Sensity Shine is amazing if you are seeking a trendier, more fashionable, and functional lens or sun lenses this is the lens type for you.
You can have Sensity and Sensity Shine in single vision, enhanced single vision and multifocal prescriptions as well as being available in thinner and lighter lens materials. They may just be your next best thing."