As your little ones grow up, their eyes play a vital role in helping them understand the world around them. School Vision looks at the way the visual system responds to near-vision tasks.
Eye conditions such as eye dominance, ocular muscle imbalances and visual stress can make learning and reading difficult for school-age children. This will often show up as jumbling or missing words, problems with tracking sentences, a disinterest in homework, or a poor attention span.
Up to the age of six, children's developing visual systems can be affected by eye anomalies, and so it's extremely important to have their eye health and vision checked regularly. Early detection can help to more easily treat any problems.
Park Vision welcomes children of all ages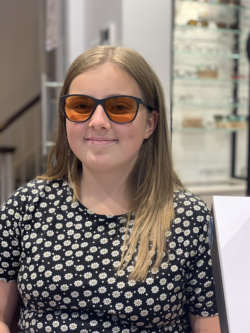 An initial assessment takes about an hour it includes a full eye examination and further, more detailed eye tests, to determine how the eyes work together binocularly. Eye dominance, hand-eye coordination, tracking, ocular muscle imbalances and coloured tints for visual stress and neural processing are all investigated and corrected.
Park Vision founder and Optometrist Michelle is one of the few certified School Vision Optometrists in the country. Our School Vision Assessment takes a standard eye examination a step further to determine how the eyes are working together, offering a timely diagnosis and treatment or management of any conditions - to ultimately improve all aspects of learning.
A School Vision Assessment costs £195, and £65 for follow-up appointments (£172.86 and £42.86 for NHS eligible patients).